Friends and Acquaintances

MANY of my friends are musicians, the rest are computer geeks or bikers! Here are some of them in no particular order...

I met Chris Duarte and John Jordan through my guitar player/singer, John Simoneaux, who is a friend of Chris's (we were even on Chris's guest list!! Front Row Seats!!!!). The Picture below was taken at the Blues Fest in Eureka Springs, Arkansas 5/31/97.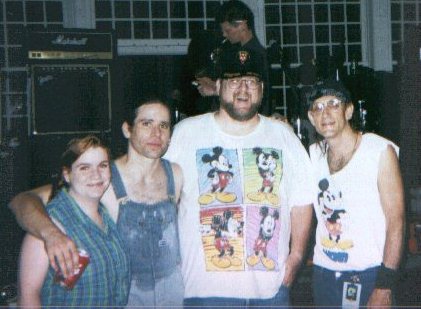 Alison Simoneaux, Chris Duarte, Me, John Jordan
---
Malcolm "Papa Mali" Welbourne, a Shreveport Louisiana native, occasionally drops by the Sundown West in Ruston and play a gig or two as well as jamming with us at our Tuesday Night Jam. Playing everything from Reggae to Delta Blues, Mali ALWAYS blows the audience away!
---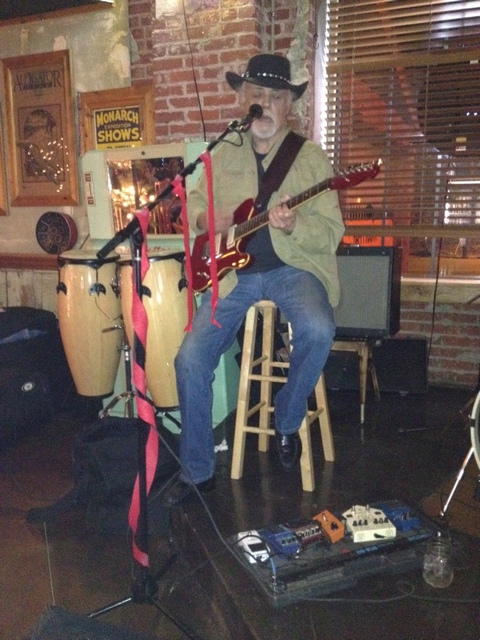 Louisiana Music Hall of Fame member Jerry Beach is well known as the author of "I'll Play The Blues For You". Jerry (who lives in Shreveport, LA), can usually be found playing with his band at Freddie Mack's or the Monday Night Jam at Tommy's Place. I have had the pleasure of playing a gig or two with Jerry and will do it again given the opportunity!
---
David Deaton

I met David (of Southpaw fame) at Tommy's Place in Shreveport and was immediately impressed with his singing and playing ability. Since then, I have had the pleasure of jamming with him on several occasions and consider him a friend.
David also paid me the highest complement I have ever been given as a musician:
"...you lay down this FAT Groove... you sound like a Black Man back there on the drums."
B-)
---
Joe Nadeau
Joe is another one of the extremely talented people I have met at Tommy's Place. When he is on stage, he OWNS the place! Joe has this "In yer face" presence on stage that you just can't ignore and the playing ability to match. Off stage, Joe is one of the nicest guys you will ever meet. Having played a bit with him, I can also tell you that he treats the other guys on stage with respect and is not one to "leave you hanging" even if he IS in a different league than you.
Joe's Bio:
Born: March 23, 1966. Joe started guitar @ age 12 on Fathers' old Silvertone acoustic First memorable musical experiences we're Fathers collection which included early Aerosmith, Eric Clapton, Allman Brothers, Jimi, Chuck Berry & Motown sides. First bitten by the Blues bug in Junior High School after finding a cassette copy of "John Mayall & The Bluesbreakers, featuring Eric Clapton". He then proceeded to hold it to his ear while walking the hallways of school for the entire school year and following summer. Not long thereafter, in 1983 he purchased a copy of Stevie Ray Vaughans' "Texas Flood". SRV proved himself a huge influence as well as a "jumping off" point into the Blues world around and, more importantly, before him. Influences after this point include: Albert King, Freddie King, Lightning Hopkins,Otis Rush, Jimmie Vaughan, Albert Collins, Johnny 'Guitar' Watson, Duane Allman, Billy Gibbons, Lowell Fulson, B.B. King, John Lee Hooker & many others. Also contributing to the education was a thriving local New England scene as well. People such as Duke Robillard & Ronnie Earl from the Roomfull of Blues empire. After establishing the 'Texas sound' as his favorite style of Blues, he packed up his guitars and a footlocker and headed to Texas. Dallas, Texas. It was there, while working at a local guitar shop, where he met a young Kenny Wayne Shepherd. Not long after, KWS invited him back to his hometown, Shreveport, Louisiana to help him form his new band. Joe was KWS' first vocalist while also sharing guitar duties. Two Platinum records, an Eagles tour through Europe, two North American tours & a whole #$*!load of fun later they say... is history. After departing from KWS in 1998, he started loading up for his own release. While doing so, he also played guitar for regional legend Kenny Bill Stinson as well as performing w/ his own band. Finally, in 2001 "Burning Sands" was released on Louisiana Red Hot Records to critical acclaim. He has been touring in support of "Burning Sands" since, and is gearing up for a new release soon.
In 2006 He then got a call from KWS to help in production of a new DVD that he was w shooting. The result was playing guitar on a track w/ New Orleans legend Bryan Lee. The DVD, entitled "Ten Days Out" was released in 2007 by Reprise and the song title is "Tina Marie".
VENUES: The Fillmore West Universal Studios Center Radio City Music Hall Tipitinas ( both ) Wembley Stadium B.B. Kings ( Memphis ) Texas Stadium The Roxy Antones The Gorge The Viper Room Blind Willies The Municipal Auditorium The Strand & many more The Hollywood Bowl House of Blues ( Most of 'em)
TOURS The Eagles (Hell Freezes Over- Europe) B.B. King Bob Dylan Lynyrd Skynyrd Paul Rogers ( Bad Co.) The Neville Bros. G3 Tour w/ Joe Satriani, Steve Vai & Eric Johnson
SUPPORT ACT FOR / PLAYED WITH: James Brown ( private B-day party ) Johnny Winter Slash ( @ above ) Gov't Mule James Burton Roomful of Blues Bootsy Collins ( @ above ) Ian Moore Leon Russell Otis Rush Bo Diddley ( his band ) Junior Brown (Pres. Clintons' Inaugural Ball) Storyville Jimmie Vaughan James Cotton Double Trouble ( KWS' sessions / performances ) many more
TELEVISION / FILM: Austin City Limits 1996 ( w/ Kenny Wayne Shepherd) (Let Me Up) I've Had Enough (Nadeau,Shepherd,Selby) in Tri-Star Motion Pictures, "The Fan", starring Robert DeNiro & Wesley Snipes. 2007 Reprise DVD, KWS' "Ten Days Out". Guitar track on "Tina Marie" with Bryan Lee, KWS, Double Trouble and Jimmy Wallace
---


Tim Brogan, Dunny Gillyard, Michael Rasbury, Charlie Bush, Randy Guynes, Bruce Gay
The Lightnin' Bugs are a six-piece dance band from Shreveport, Louisiana. The wide variety of their music makes classification hard, but they've been called "Louisiana World Beat," and that seems to fit. Their music draws on influences of reggae, salsa, blues, second-line and Cajun. The Bugs play originals and covers, although the covers are often played nontraditionally. This and their unique horn section consisting of a violin and trombone make them an unforgettable band.

---
Howard Shaft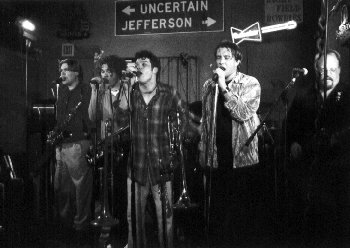 Howard Shaft at The Sundown Tavern in Ruston, LA
I've known these guys since their early days with Blue Monday and have even had the pleasure of being their drummer for a couple of gigs. If ya are looking for the baddest Funk/Horn band in North Louisiana.... these guys are it!
---
Clovis Pillgreen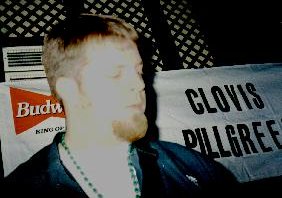 Matt "Shepdog" Shepherd
I met Matt "Shepdog" Shepherd at a Tradeshow in Arlington Texas after hearing about him and his band through friends at work and around the clubs in Monroe. We talked a bit and he invited me out to hear them when they opened for "Dash Riprock" at the Shamrock one night. I must say I was impressed!
(If you guys ever need a drummer... lemme know!)
;-)
---
The VanBurens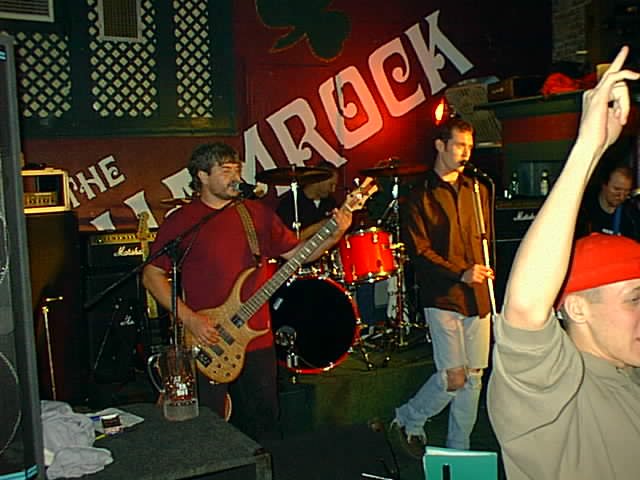 I showed up at the Shamrock one night and wound up sitting in with some of these guys. I was so impressed that I came back the next week to catch their show. These guys kick major ass! Don't miss an opportunity to see them!
---
The Habitual Sex Offenders
The HABITUAL SEX OFFENDERS were formed in 1992 in Ruston, Louisiana. Punk-pop with a twisted, non-PC sense of humor, HSO has its tongue firmly in cheeks. The guys still drop by from time to time and are a hoot to jam with!
---
John Simoneaux
Died Jan 17, 2000
John was a good friend of mine who also was one of the finest Blues Guitarists to ever come out of Ruston. John founded the band "Blue Monday" which gave "Howard Shaft" their start and also hosted the Jam at The Sundown Tavern West where I eventually became the House Drummer. Were it not for John, I would not be the musician I am today. Thanks John.
---
John's Last Gig
They were all there . . . the Cops and the Musicians, the Computer Geeks and the Mechanics, the Teenagers and the Geriatrics . . . All with one purpose in mind . . . to see the man who had taken center stage. With guitar pick in hand, wearing a Hawaiian shirt, his favorite blue jeans and his Converse tennis shoes he waited, impish smirk on his face, for the crowd to settle down. It was noisy in the big room. Seating for more than a hundred left standing room only . . . no . . . less, for people were left standing in the halls outside. The place was alive with talk and laughter . . . stories being told of the man, his antics, his love of his friends, family and his music. As the event began, a hush fell over the room as one-by-one people approached the front of the audience and spoke. They spoke of kindness, love and inspiration . . . of humor generosity and giving for this was John Simoneaux's final gig . . . his wake.
God Bless
Speedy "Dr. Speed" Mercer
01/21/2000
---
Jody K.
I raced a ragged-out old Toyota in the Red River Region S.C.C.A. H/Stock Class with Jody when I lived in Shreveport. I worked with my brother, Tommy, in his shop Quality Frame and Alignment, just down from Jody's day job at T&T Sheet Metal in Shreveport, LA.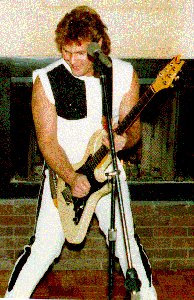 ---
Ted Nugent
Ted Nugent, Wife & Son at Indy "Think, Don't Drink and Drive" Celebrity Race / National Collegiate Driving Championships.
This was taken when we were having dinner together with the other race participants.
(I still have the "Indy Car" Centerpiece off of the table!)
---
Pat Bronson
Pat takes the blame for getting me back into music after a long dry spell by introducing me to John Simoneaux and the Blues Jam at the Sundown. Pat also deserves a place on my Music Friends page as he actually played Trumpet in the Tech Band so there!
Pat is one of the 1st friends I made in the world of computer-geekdom and has remained a close friend for many years. Sure he's into Mac-N-Trash but I don't hold that against him.
---
The Rustonites
While we lived in Ruston, LA, we made a LOT of good friends. Just a few of them are: Richard and Debbie Deiter, Rodney Cannon and Mona, Steve Embry, Dave Hill, Scott Tisdale, Ken Carter and more! You would not believe the talent and nice people there. If you are ever in the area, drop by the Sundown Tavern in beautiful Downtown Ruston and look up my old friends.
---
The Arkies
My work took me to Bentonville,AR (yes, the home of Wal-Mart and NO, I did not work for them!) where I met Jennifer Beaver. She was my next door neighbor and told me she used to sing. I heard her and KNEW she needed to be out of the house and on the stage. I eventually got her in a band with me and some friends but it didn't take long for her to move on to bigger and better things (full-time musicians that is!). She now has a couple of CDs out and gets airplay in the states and several countries worldwide! There are a few Blues Societies in the Bentonville/Fayetteville area and I found myself playing at their Jams many a night with great local talents such as Jeff Horton, Mike Murray, Greer Gamble, Cherry Brooks, Wes Bowlin, Ocie Fisher and many many more!
---
All original material is protected under U.S. and international © copyright laws.
No contents may be reproduced either in part or whole without written permission from the author.
© Copyright, A. S. Mercer
Last Modified: = 04:41 AM - 09/26/18