The Big Page of Cartridge Comparisons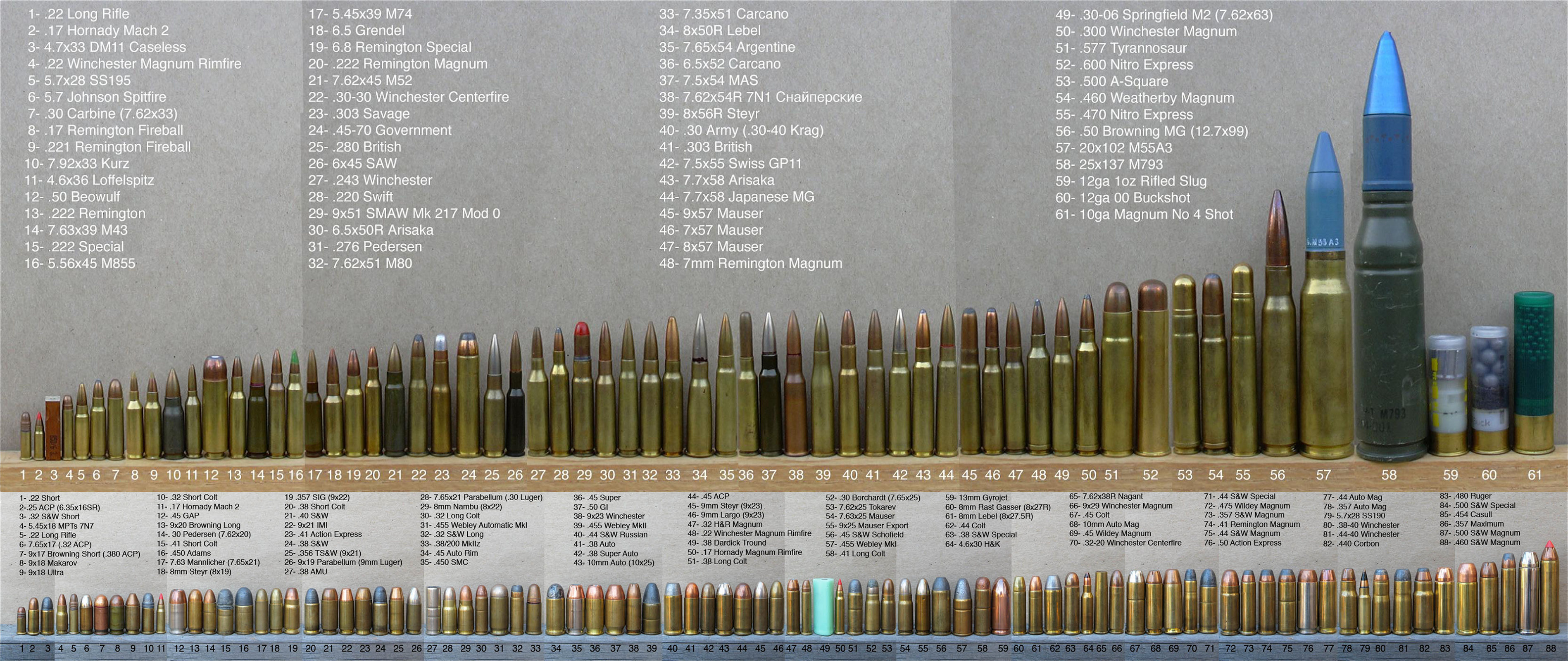 Rifle and Pistol Ammo
---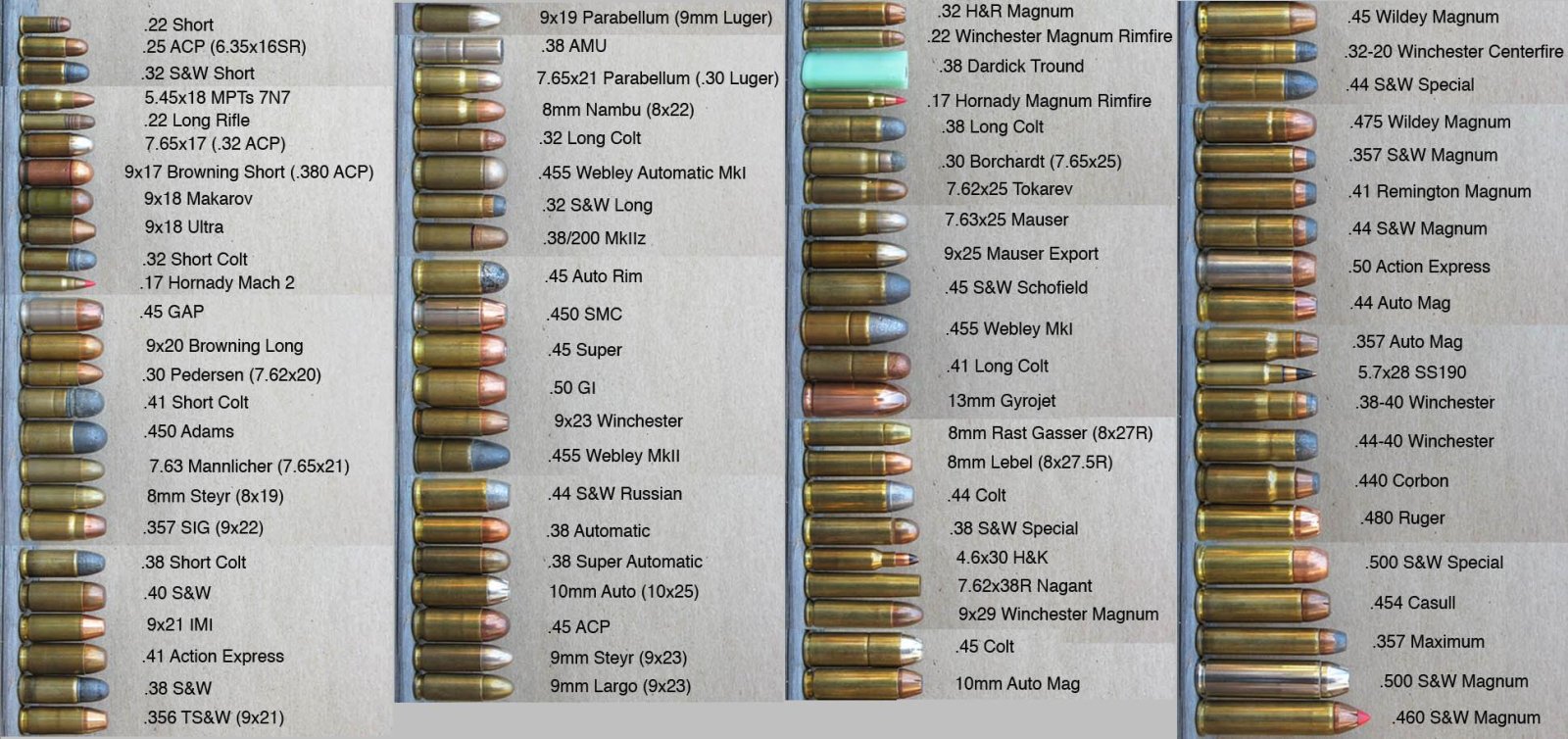 Pistol Rounds
---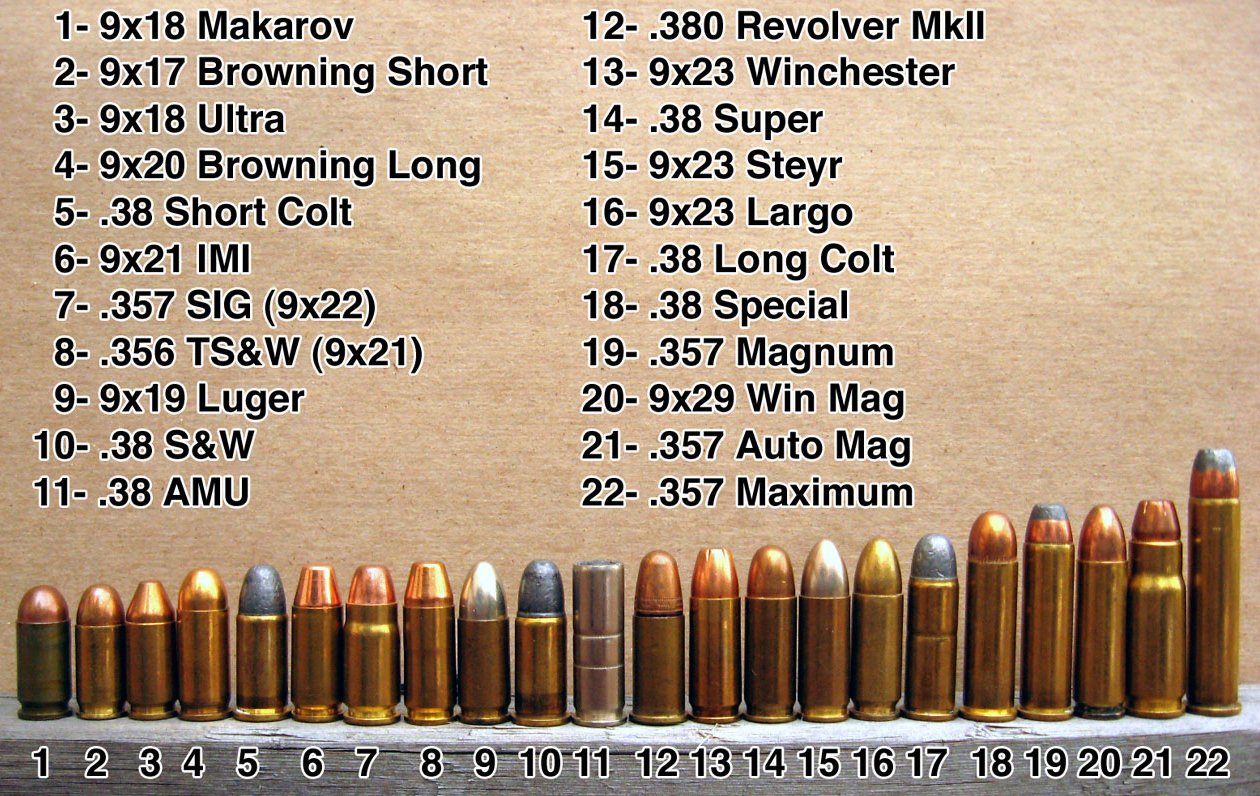 9mm Ammo Variations
---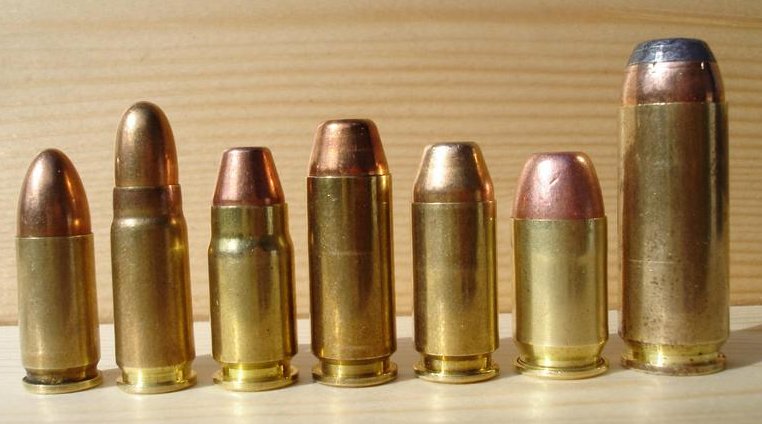 From left: 9x19mm Parabellum; 7.62x25mm Tokarev; .357 SIG; 10 mm Auto; .40 S&W; .45 GAP; .50 Action Express
---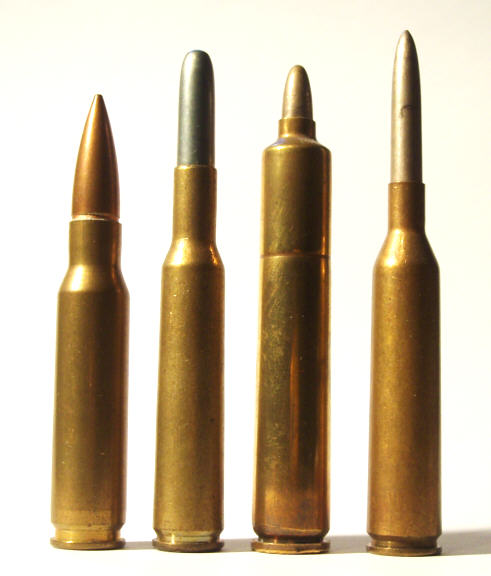 From left to right: 7.62x51 for scale; 6mm Lee; 5.2mm Mondragon; 5mm Sturtevant
---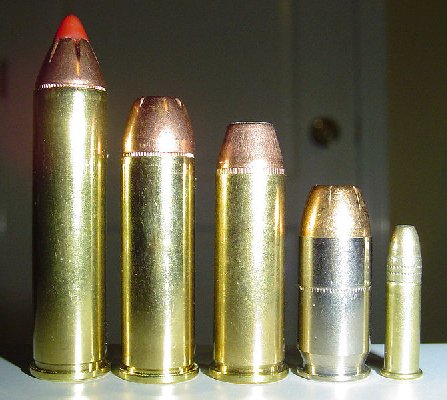 Left to right: .460 S&W Magnum; .454 Casull; .44 Magnum; .45ACP; .22LR
---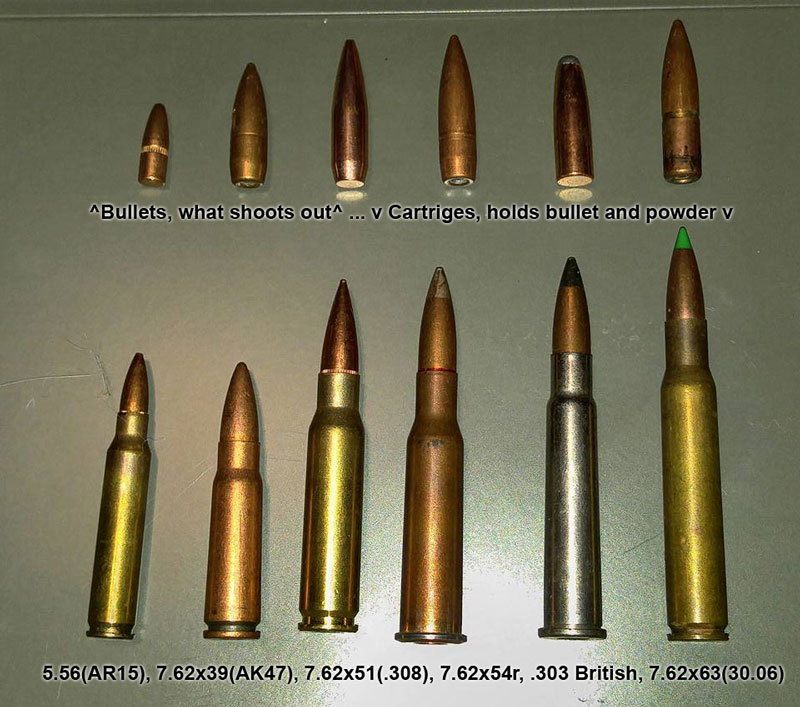 ---

Left to Right: 1) .17 HM2; 2) .17 HMR; 3) .22LR; 4) .22 WMR; 5) .17 SMc; 6) 5mm/35 SM4; 7) .22 Hornet; 8) .223 Remington; 9)
.223 WSSM; 10) .243 Winchester; 11) .243 Winchester Improved (Ackley); 12) .25-06; 13) .270 Winchester; 14) .308; 15) .30-06; 16) .45-70 Govt; 17) .50-90 Sharps
---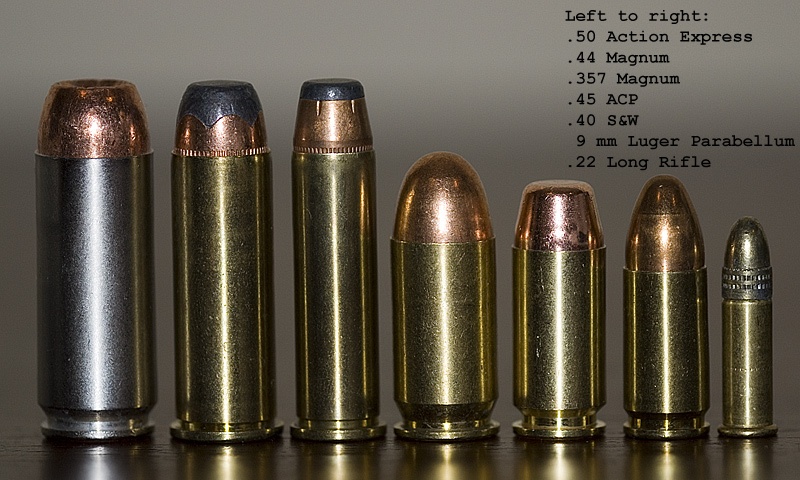 Common Pistol Cartridge Comparison
---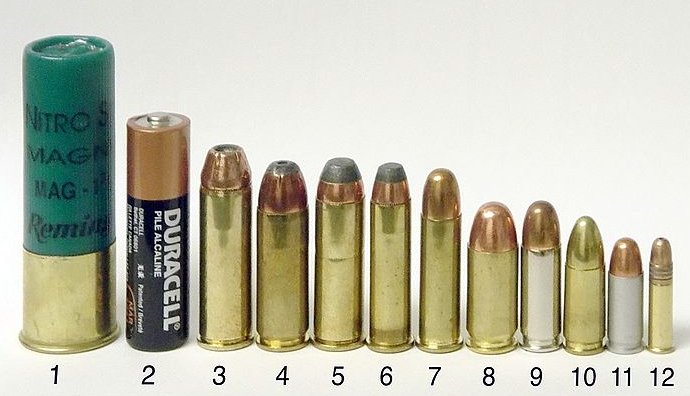 Left to right: 1) 3 inch 12 ga magnum shotgun shell; 2) AA battery (for size comparison); 3) .454 Casull; 4) .45 Winchester Magnum; 5) .44 Remington Magnum; 6) .357 Magnum; 7) .38 Special; 8) .45 ACP; 9) .38 Super; 10) 9 mm Luger; 11) .32 ACP; 12) .22 LR
---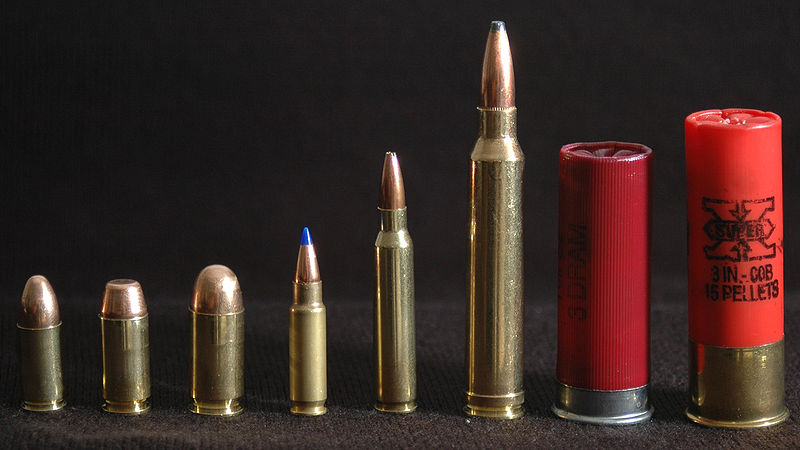 From left to right: 9x19 mm Parabellum; .40 S&W; .45 ACP; 5.7x28mm; 5.56x45 mm NATO;
.300 Winchester Magnum; and a 70 mm (2.75 inches) and 76 mm (3 inches) 12 gauge
---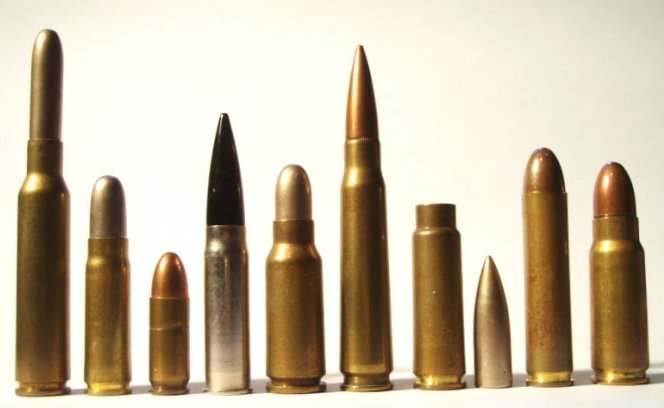 Rounds for early automatic rifles: the 6.5x52 Carcano; 7.65 Mannlicher Carbine;
.30 Pedersen; 8mm Ribeyrolle (replica); Swiss 7.65x35; .276 Pedersen;
Swiss 7.65x38 with bullet alongside; 9x40 Lahti; 9x35 Lahti
---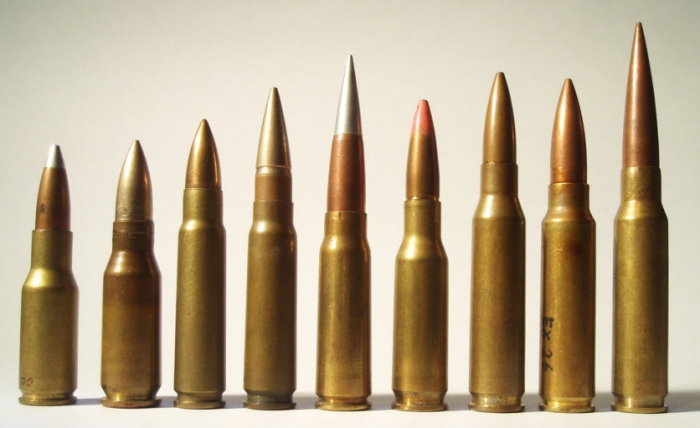 Unsuccessful postwar experiments: 7x36 Otterup; 7.5x38 Swiss;7.5x45 Czech;
7.5x43 French CRBA; 7.92x40 CETME; .280/30 EM-2; 7mm Compromise;
7.62x47 T65 (predecessor of the 7.62x51 NATO); 7.62x51 with CETME bullet.
---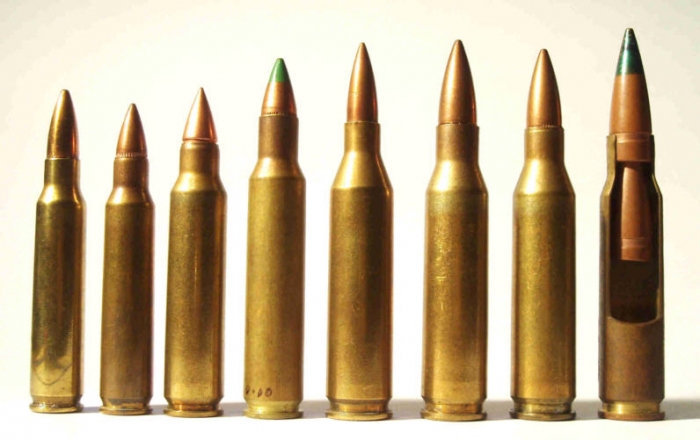 Some experimental US rounds of the 1950s: .223 Remington (for scale); .224 Winchester E2;
.25 Win FA-T 116 (6.35x48); .25 Win Duplex FA-T 127 (6.35x53); .22/30 Homologous (5.56x51);
.27/30 Homologous (6.8x51); .25/30 Homologous (6.35x51); sectioned 7.62x51 M198 Duplex (which actually saw service).
---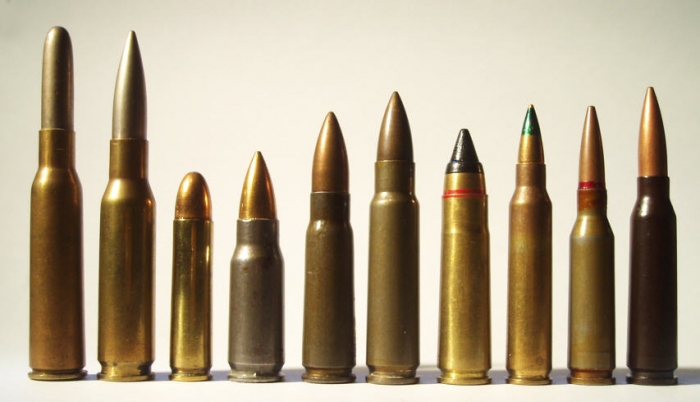 Intermediate service cartridges: 6.5mm Arisaka; 7mm Medium; .30 M1 Carbine;
7.92mm Kurz; 7.62mm AK-47; 7.62x45 Czech; 9x39 Russian (silenced AP - replica round);
5.56x45 SS109; 5.45x39 AK-74; 5.8x42 Chinese
---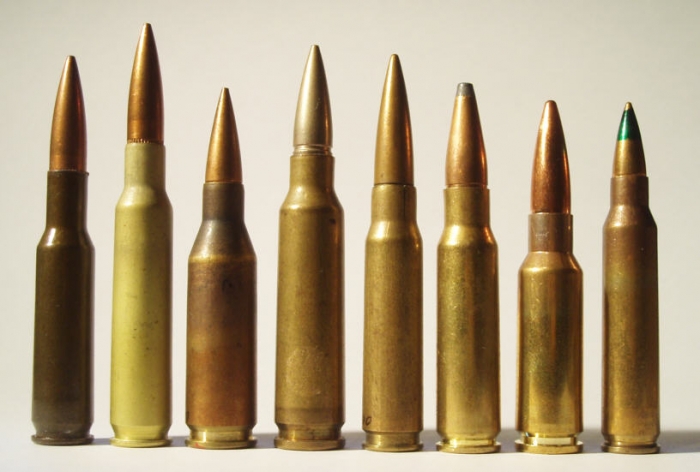 Some experiments since the 1970s: 6mm SAW; 6mm SAW aluminum-cased; 6.25mm British;
6.45mm Swiss; 6.5x43 German; 6.8x43 Remington SPC (commercial soft-point bullet loading:
military bullets are shorter to match the overall length of the 5.56x45); 6.5mm Grendel; 5.56x45 for scale
---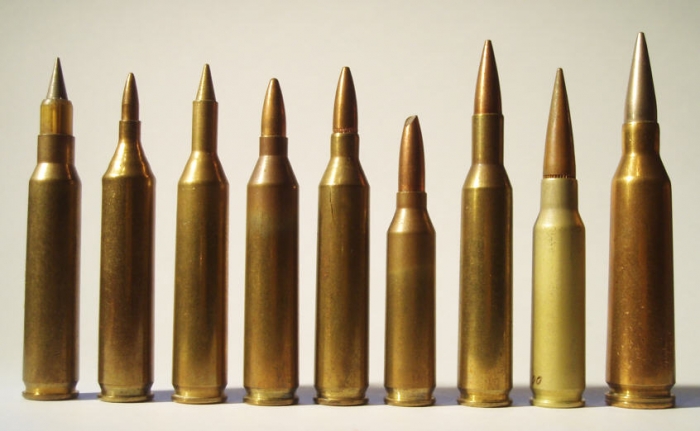 Experimental cartridges under 6mm: FN 5.56x45 APDS; .12 US (3x47); 3.5x50 FN;
4.3x45 German; .17 US (4.3x46); 4.6x36 HK/CETME (with spoon-tip bullet);
4.85mm British; 5.56x38 FABRL; 5.6mm Eiger
---
Experimental US flechette rounds: 5.56x45 for scale; sectioned 5.6mm XM216;
5.6mm XM144; 5.6mm XM110; 5.6mm XM645 (all part of the SPIW programme);
.330 Amron Aerojet (alloy case; with three flechettes)
---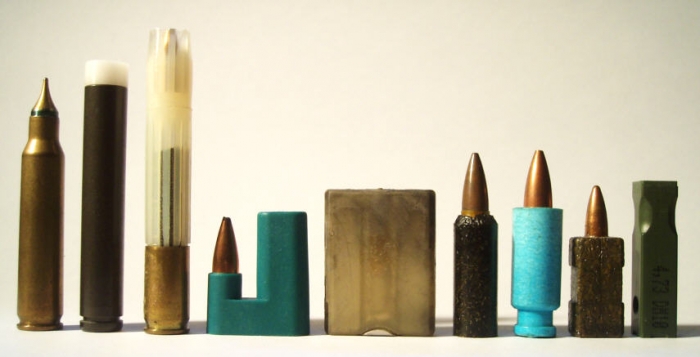 Exotic attempts: 5.56x45 with Monad bullet; 4.5mm Schirnecker; 9/4mm Kaltmann
(development round; with part-metal case); 5.56mm Folded; 5.56mm Hughes Lockless;
5.56mm US caseless; 6mm Voere caseless; early HK G11 4.7x21 rounds; final G11 4.7x33
---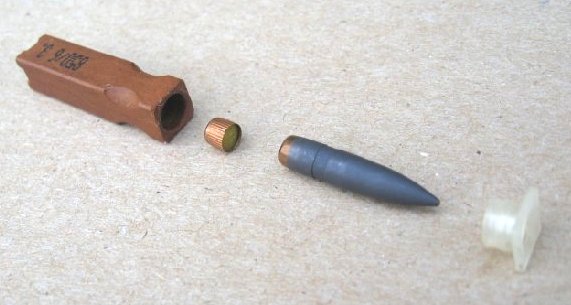 G11 4.7x33 Components; Charge; Primer; Projectile; Retainer
---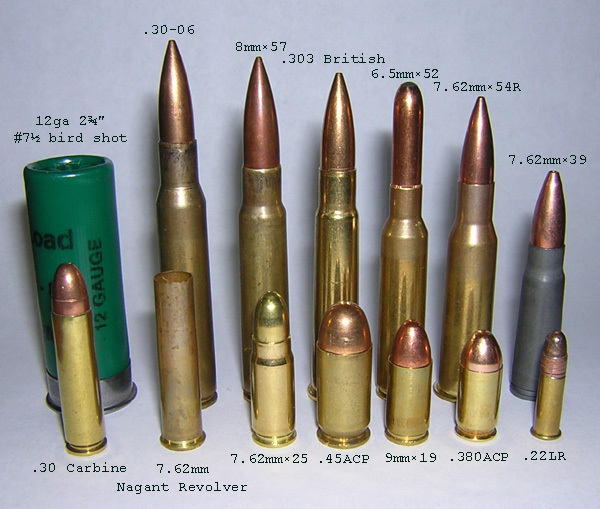 Common Ammo Comparison
---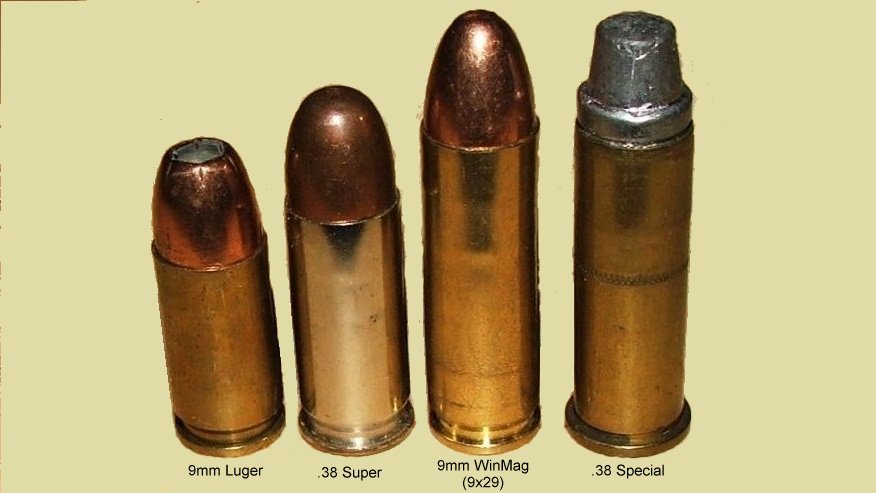 The Rare 9mm Winchester Magnum (9x29) Used mainly in the AMT AutoMAG III
---
---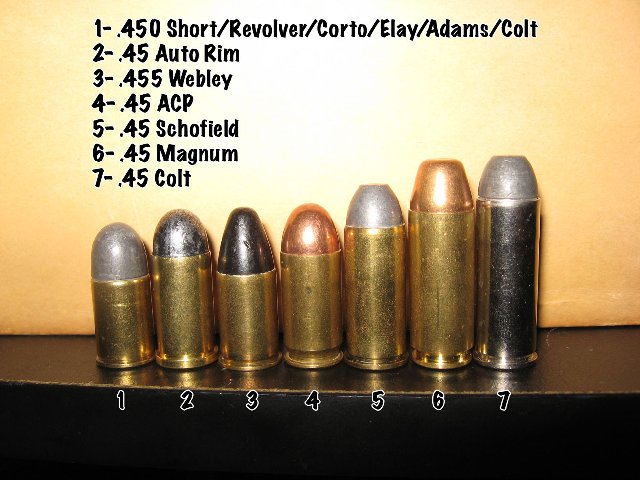 Different 45s
---
---
Specialty Ammo
---
---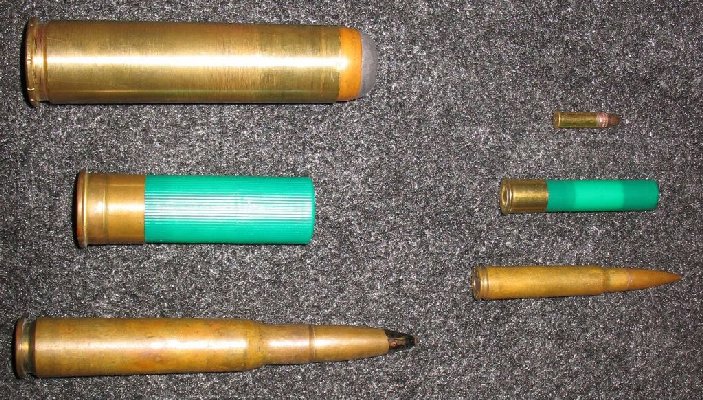 12ga Rifle From Hell shell comparison (the biggest black tipped round is a .50 BMG round!)
---

.17HM2; .17HMR; .22LR; .22WMR; 5.7FN; .223Rem.; .243Win.; 6mmRem.; .25-20Win.; .264WM; .270WSM; 7x57mmMauser; 7mmRUM; .30Carbine;
7.62x39mm; .30-30Win.; .308Win. (actually 7.62NATO tracer); .303British (Cordite charge with Cupro-nickel jacket projectile); .30-06; .300WM; .300Wby.;
8x57mmMauser; .35Rem.; .375H&H; .45-70Govt.; .458WM; .460Wby.; .50Beowulf; .50BMG (AP); .577NE; .577T-Rex; 12GaFH; .700NE; and finally Mr. Hubel's 4Bore.
---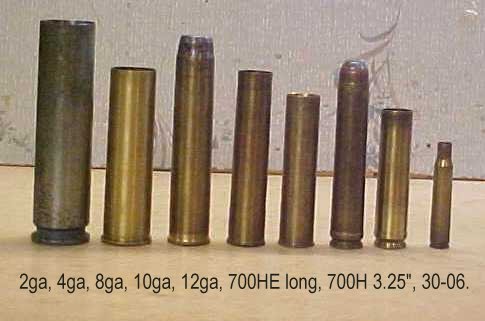 More "12ga Rifle From Hell" shell comparisons
---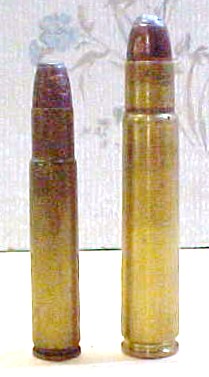 505 Gibbs, 585 Hubel Super_Magnum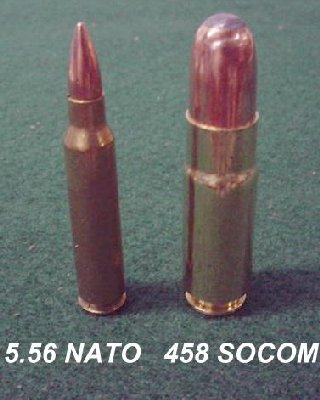 The 458 SOCOM
---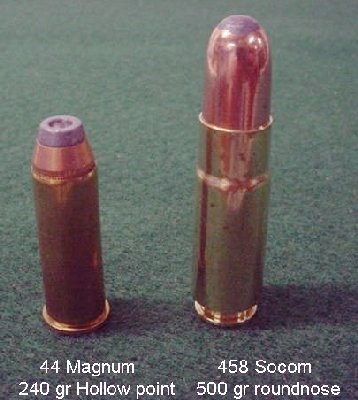 The 458 SOCOM
---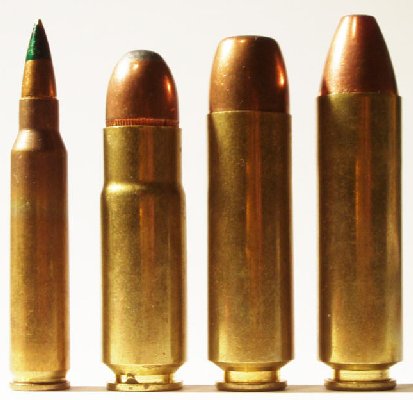 From left to right: 5.56x45; .458 SOCOM; .50 Beowulf; .499 LWR
---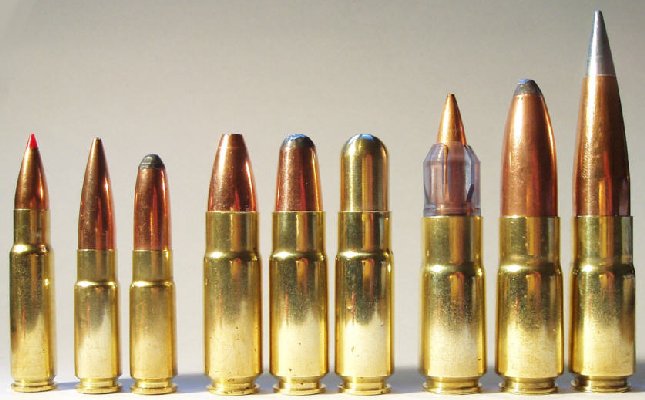 .30 HRT (110 grain Hornady V-Max); .338 Spectre - 300 grain Sierra Hollow Point Boat Tail Match King) and 300 grain HAWK Round Nose;
.458 SOCOM - 300 grain Barnes X Spitzer; 400 grain Barnes Round Nose Solid and 600 grain Barnes Original;
.500 Phantom - 168 grain Sierra HPBTMK (saboted); 700 grain HAWK and 750 grain Hornady A-Max.
---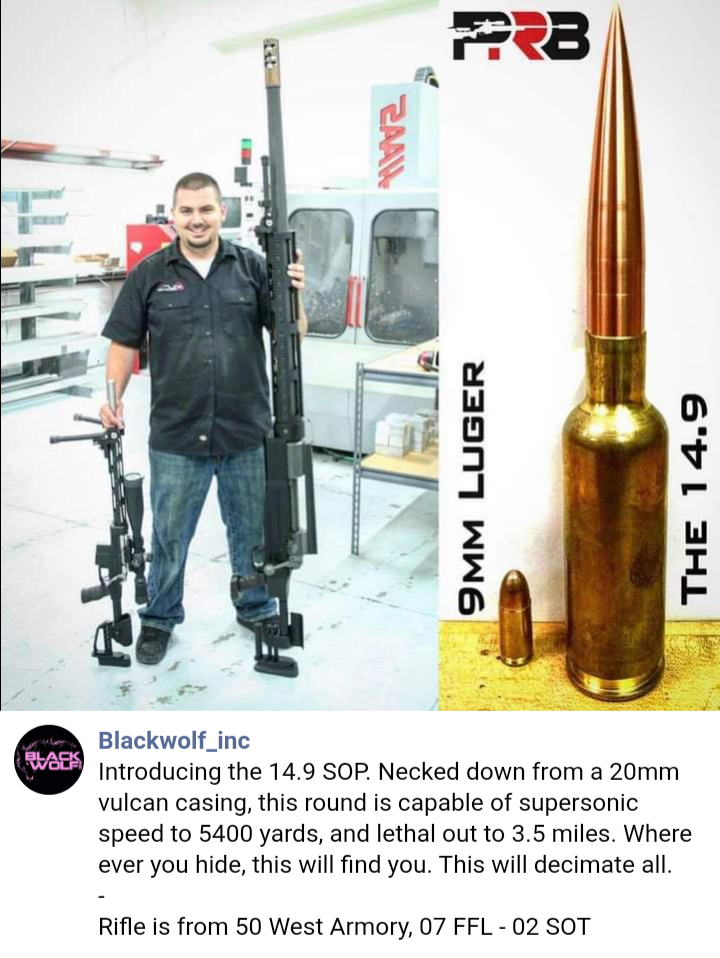 14.9 SOP, necked down 20mm Vaulkan round!
https://www.50westarmory.com/149mm
---

Badly cracked .303 British rifle casing
---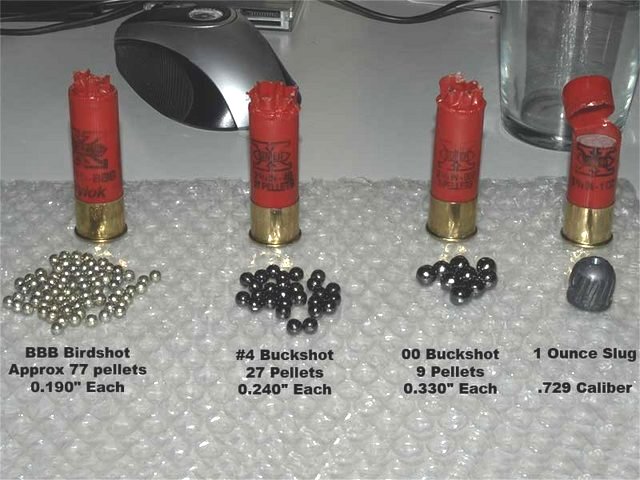 Assorted Common Shotgun Projectiles
---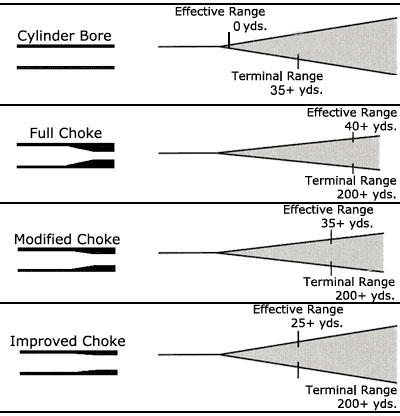 Shotgun Choke Patterns
---