Bikes!
---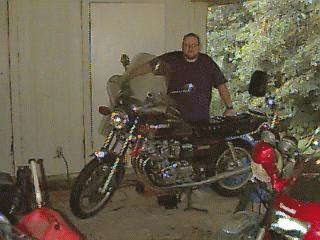 78 Suzuki GS850G

74 Honda CB750K
(yes, it is a Photo Shopped image of my actual bike)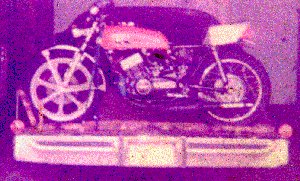 Cafe Yamaha RD350 with TZ chambers (the bolt on silencers are swappable with the original stingers),

Boyesen reeds, Dyna III Ignition, High Performance coils and Wiseco Pistons on the back of the "Thunder-Truck" (A 75 T-Bird with a flat-bed where the trunk used to be!)

What? Doesn't EVERYONE'S garage look like this?!?!
a picture from back in the days when I did a LOT of work on bikes!

NOTE: I will post the picture of my old Spagthorpe Dalmatian as soon as I can find it.
---
The bikes above are just a few of the 50+ I've owned in my life. I will probably always have at least 1 or 2 around (in some state of disrepair or another).
I started riding bikes when I was 9 and wound up racing them on the local short tracks (dirt oval) before switching to Enduro/Hare Scrambles. My best finish was 10th in the Amateur Open class in a national event in North Louisiana out of a field of some 40+ riders! I have also built several One-Off bikes such as the Husky 400cc WR engine in the Husky 250CR frame! (mind you, this was BEFORE the factories started doing this stuff and "lay-down" shocks were Cutting-Edge technology!) Tommy (my brother and the owner of the bike) claimed that it didn't have a throttle... it was an altitude control.
---
---
All original material is protected under U.S. and international © copyright laws.
No contents may be reproduced either in part or whole without written permission from the author.
© Copyright, A. S. Mercer
Last Modified: = 04:41 AM - 09/26/18